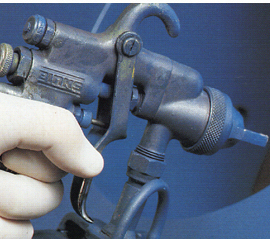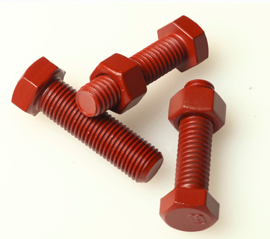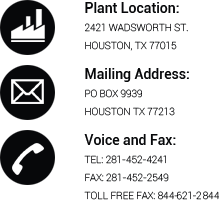 Xylan coatings provide excellent adhesion to a variety of of substrates while requiring a minimum of surface preparation. Final product quality demands careful surface prepartation. The part must be free of all contaminants (oil, grease, detergent, blast media, buffing compound, etc.). American Plating's quality control will assure proper adhesion of the coating material to the substrate.
Most applications require only a solvent wipe or vapor degreasing of the substrate to remove surface contaminets. Some applications may require additional surface preparation to enhance adhesion, e.g. grit blasting with aluminum oxide.
Xylan coatings are applied using the latest spray techniques and spray gun apparatus associated with the application of fluoropolymer coatings will provide a uniform film. Airless and electrostatic units are also used depending on the specifications of the customer.
Following application, the coating material must be bonded to the substrate. Coated parts may be cured immediately or be accumulated for a batch oven.
XYLAN
10 REASONS WHY YOU SHOULD USE XYLAN COATINGS
Xylan coatings differ from traditional fluoropolymer coating in on very important aspect - they are composite materials. Lubricants with the lowest known coefficient of friction are combined in a matrix with high temperature organic polymers. United, these polymers form unique properties:
Low Friction: as low as 0.02.
Wear Resistance: even under extreme pressures.
Corrosion and Chemical Resistance: in most environments.
Weather Resistance: against sunlight, saltwater and road chemicals.
Wide Temperature Operating Range: from -420 to +550 F (-250 to 285 C)
Flexible Curing Schedule: ambient to 750 F (400 C)
Flexibility: even under extreme pressures.
Pliability: Xylan coatings will bend freely and repeatedly without breaking.
Machinability: apply multiple coats of Xylan coating (most formulations) and milled to specification.
Excellent Adhesion: to most metals, plastics, ceramics, wood, even to itself.